Truliant Publishes 'Brighter together' Social Responsibility Report
Truliant Publishes 'Brighter together' Social Responsibility Report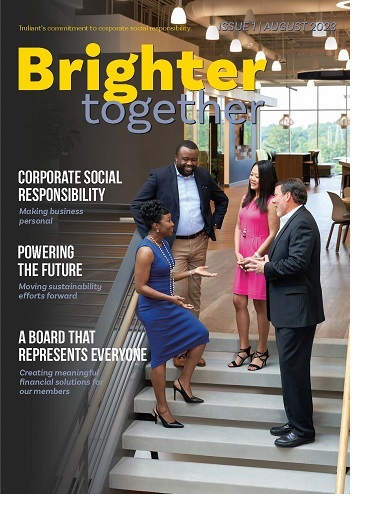 WINSTON-SALEM, N.C. (September 12, 2023) – Truliant Federal Credit Union announced today the release of its first Corporate Social Responsibility (CSR) report. Titled 'Brighter together,' it highlights the benefits of Truliant's social, environmental and community efforts.
"Brighter together" is published as an online magazine. It focuses on five pillars of CSR at Truliant that together form a more significant effect: charitable giving; diversity, equity and inclusion (DEI); community engagement; financial wellness; and environmental stewardship.
"We've always had a greater sense of purpose. This first issue of 'Brighter together' tells the story of social responsibility's important role at Truliant," said Todd Hall, president and CEO of Truliant. "This report takes a deeper look at our role as a corporate citizen and the good we're doing to strengthen relationships with employees and members."
At a time when consumers expect the companies they do business with to be a force for good, Truliant is responding, according to Precious Quire-McCloud, senior vice president of diversity and social responsibility at Truliant.
"'Brighter Together' shows how we are being intentionally mindful of our responsibility to improve the lives of others and how our business decisions contribute to the greater good of society," McCloud said. "Our commitment goes beyond banking to make business personal."
The report can be viewed online at Truliant's
website
. It highlights efforts over the last year including:
Sustainable practices in operations, including the installation of 742-solar panels on the roof of the new Truliant Operations Center. The panels will eliminate an estimated 740,000 pounds of carbon dioxide waste each year.
Guidance to Truliant members, business partners and the community through in-person classes and online programs. More than 3,000 individuals participated in Truliant's financial wellness and education programs last year.
Expanding DEI programs to strengthen Truliant's workplace culture and helping employees build networks of support and allyship through Business Resource Groups.
Helping others by donating more than $643,000 to 116 nonprofits through the Truliant Foundation, representing the credit union's commitment to community engagement through sponsorships, scholarships, grants and more.
Increasing boardroom diversity on Truliant's Board of Directors. A majority of Truliant's board now represents racial and gender diversity.
The impact of Truliant to local organizations through more than 155 community events so far in 2023 and countless service hours; and a profile of Truliant's Employee Volunteer of the Year.

About Truliant Federal Credit Union
Truliant is a mission-driven, not-for-profit financial institution that improves lives by providing great service and straightforward financial solutions. Truliant was chartered in 1952 and now serves 316,000+ members. Truliant has more than 35 Member Financial Centers in North Carolina, South Carolina and Virginia.
FOR MORE INFORMATION:
Contact: Heath Combs
[email protected]
(o) 336.293.2054 (c) 336.442.5736