Truliant Foundation Launches to Support Commitment to Community
Truliant Foundation Launches to Support Commitment to Community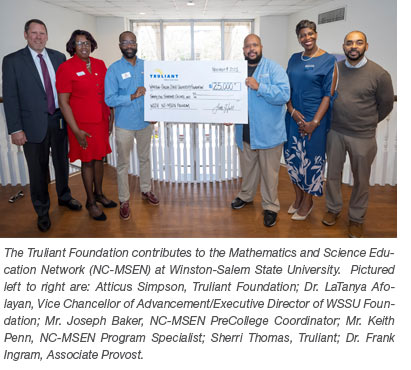 WINSTON-SALEM, N.C. (November 17, 2021) – Truliant Federal Credit Union announced today it will launch the Truliant Foundation to further support its commitment to community and social responsibility to give back to the neighbors it serves.

The Truliant Foundation will provide support to internal and external credit union programs and funding initiatives. It will collaborate with organizations who align with Truliant's mission and community focus areas. Moving forward, all of Truliant's existing grant, donation, and scholarship programs will be funded and managed as programs of the Truliant Foundation.

"As we've grown, so too has Truliant's commitment to our member-owners and the diverse communities they represent. Establishing the Truliant Foundation expands on the 'People Helping People' philosophy of credit unions and our legacy of helping underserved populations. It creates a platform to deepen connections with partners as we increase contributions over time," said Sherri Thomas, Chief Administrative Officer at Truliant.

The first new program of the Truliant Foundation is the establishment of the Truliant Employee Relief Fund. It will provide financial assistance to employees experiencing financial hardship due to events beyond their control, including disasters, extended illnesses, injuries, and other special situations. The Employee Relief Fund will provide grants to employees for their own needs or for those of their immediate family members.

The fund was launched with personal donations from 100 percent of Truliant's senior management, an amount matched by Truliant to start the fund.

"Truliant's leadership team shares the vision of this fund as an important investment in our employees, so much so that 100 percent of them gave in recognition of their concern and support of our employees," Truliant's Thomas said. "We are grateful for our management's support as anchor investors, providing not only a conduit for financial wellness, but in taking this step so early to unlock the potential of our foundation."

As its first major gift, Truliant contributed to the Winston-Salem State University Foundation to support the Mathematics and Science Education Network (NC-MSEN) program. The gift will be used at the historically black university to eliminate disparities in education and to prepare middle and high school students for careers requiring math and science.

The foundation will engage Truliant employees in its commitment to give back by establishing a volunteer-led Advisory Board made up of diverse employees from all levels of the organization. The Advisory Board will be active in the distribution of community support based on the needs of the communities where they live and work and will include reviewing giving requests and participating in financial education grants, Community Mini Grants and scholarship programs.

"The advisory board gives our employees an outlet to make their voices heard. They live, work and play in our communities - so who better to provide thoughtful contributions around how we can best serve local social and economic needs," Thomas said.

In the last five years, Truliant has contributed more than $1 million in scholarships, grants and charitable gifts to more than 400 community-focused organizations and 100 local students who are pursuing higher education. Truliant's community focus areas include:
Community Development: Organizations that cultivate relationships, social responsibility, civic engagement and collaboration to build community.

Economic Mobility: Organizations providing personal guidance and activities to build financial stability and social prosperity for individuals and their families.

Financial Wellness: Organizations that are specifically engaged in activities that promote and improve financial inclusion and financial literacy.

Youth & Education: Organizations supporting education and programming from middle school through high school.
---
​About The Truliant Foundation
The Truliant Foundation supports Truliant Federal Credit Union's commitment to community and its social responsibility to give back to the neighbors it serves. Established in 2021, the foundation provides support to nonprofit community partners working to enhance the quality of life in member communities. The donor-advised fund was created by Truliant and is administered by the Carolinas Credit Union foundation. Donations to the Foundation are tax deductible. Learn more at Truliant.org/Foundation
About Truliant Federal Credit Union Truliant is a mission-driven, not-for-profit financial institution that promises to always have its member-owners' best interest at heart. It improves lives by providing financial guidance and affordable financial services. Truliant was chartered in 1952 and now serves 280,000+ members. Truliant has more than 30 Member Financial Centers in North Carolina, South Carolina and Virginia.
FOR MORE INFORMATION
Contact: Heath Combs
[email protected]
(o) 336.293.2054 (c) 336.442.5736