A Better Financial Choice
Get financially fit with Forsyth Tech and Truliant.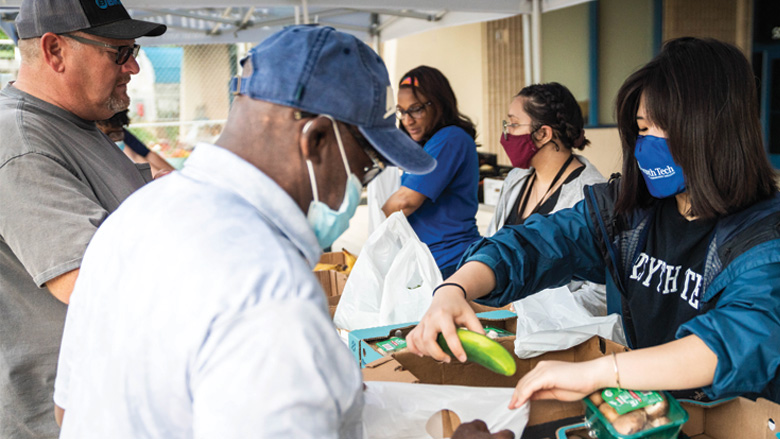 Student Checking 2.0
We all know that for many students, money can be tight. And while you're working towards a better future, why pay someone just to house your checking account?
At Truliant, we believe that all checking accounts should be free. That means no maintenance fees, and if you lose your debit card, we've got you covered. We'll be happy to print a new one in any of our
branch locations
for free.
1
Because sometimes, life can't wait 5-7 business days.
How to save money with a Truliant account
Free checking accounts may seem like a basic service offered by a number of traditional banks and credit unions, however, they're becoming increasingly rare.

Larger traditional banks may offer free checking with a minimum balance or qualifying direct deposit. However, at Truliant, we don't believe in members having to jump through hoops for a free checking account.
Truly Free Checking
Our no-strings-attached student checking account isn't a stripped-down version of a premier account with more features. Instead, our Truly Free Checking is our standard account with no minimum balance to maintain and no maintenance fees. You can still get a free VISA® debit card for your everyday purchases and access to Digital Banking, the latest technology to help you manage your money anytime, from virtually anywhere.

As if our checking accounts aren't already a great option, you can even get cash-back on select purchases soon with our upcoming Cash-Back Debit Card program.
Easy, Free Deposits
We believe that making a deposit should always be two things: easy and free. Making a check deposit is as simple as taking two photos with our Tru2Go mobile app.

You can also make a cash deposit at one of our convenient locations or numerous Truliant ATMs. Either way, your cash becomes available in your checking account immediately.
Built-In Savings
As a member of Truliant, you must have a Membership Savings account. This means that you must deposit at least $5.00 into your new account which holds your membership. Of course, if you ever decide to leave Truliant, you would receive your $5.00 back. With this savings account, you can begin to work towards saving for the future.
Enhanced Overdraft Protection
When you don't have funds available in your account, Truliant will still strive to pay the following types of transactions:
Checks and other transactions made using your checking account number
Automatic recurring drafts made using your debit card number
Leave card declines in the past when you add our enhanced overdraft protection, Balance Backup, to your account. Balance Backup authorizes Truliant to also pay the following types of transactions when insufficient funds exist in your account:
Debit card transactions
ATM transactions
You can opt into Balance Backup in your online application or at anytime through online or mobile banking.
How Truliant can help you on your financial journey
Becoming a member of Truliant is simple. In fact, you're already qualified to become a member as a Forsyth Tech student or a resident of Forsyth or the surrounding counties. When you become a member, you gain access to more than just a free checking account, you gain access to a team of local experts who can help you reach your financial dreams wherever you are on your journey.
Free Personal Financial Checkup
Your credit score is an important part to your financial journey. It can impact interest rates, whether you qualify for a loan, and can even determine where you live. That's why we offer our members a Personal Financial Checkup. This free virtual session provides you not only with a better understanding of how lenders may see you, but also gives you some concrete steps to increase your score over time so you can hit your goals more easily. We can even uncover ways to consolidate debt, lower monthly payments and help to save you money.

Whether you're looking for financial guidance or would like to inquire about some account maintenance, reserve your private 30-minute Personal Financial Checkup by scheduling an appointment today.
Low-Rate Loans
Whether you're looking to buy a new or used car or your first home, at Truliant, you can expect low interest rates and loans that cater to your needs, goals and lifestyle. For example, our Transparent VISA® credit card features absolutely no fees of any kind including balance transfer, annual or even late fees. With our lowest rate and credit limits up to $30,000, it's a great card to start building credit that grows with your needs.
Notary Services
Whenever you need a notary, you can count on Truliant to help. You can stop by any location to get your document notorized, and as a member, our notary services are complimentary.
Official Checks
Truliant offers official checks made payable to a third party so when you need to make a deposit on a new apartment, buying a home, or making a downpayment on a car, we're happy to get you what you need.
How to use Truliant with BankMobile™
For many Forsyth Tech students who receive federal aid, an account with BankMobile may seem necessary. However, there are easy ways to bank with Truliant by transferring your funds from BankMobile and avoiding BankMobile's fees.
Mobile Check Deposit
After you receive your federal funds whether through a deposit into your BankMobile or by a check, you can make your transfer into your Truliant student banking account.

If you received a check, you can use our Mobile Check Deposit in the Tru2Go app to take a couple of photos and deposit your check.

If you received a direct deposit into your account, you can write a check from BankMobile to yourself and deposit with Mobile Check Deposit or withdraw funds from an ATM to deposit into your Truliant account at a Truliant ATM or location.

Once complete, your funds are ready whenever you are. Best of all, if you transfer your funds from BankMobile before the end of your statement cycle, you would not be responsible for their monthly maintenance fee.
External Funds Transfer
Easily transfer money from and to your Truliant account with a couple of clicks from your computer or smartphone. Our online External Funds Transfer service makes it simple to retrieve money from BankMobile to Truliant with no added fees. That means you can have your money where you need it to pay bills, buy groceries, or whatever else you may need.

And, if you ever need to transfer funds from your Truliant account to another financial institution, our External Funds Transfer service can help get it there securely.
Access to CashPoints ATMs
On top of the many Truliant ATMs all over the Triad and beyond, you also get free access to your funds through CashPoints.
Digital Banking and More
Alongside the ability to see your Truliant accounts, make deposits and more, Digital Banking also offers:
Bill Pay for everything from your credit card bill to your power bill
Money Management to help you stay on budget with a bird's eye view of all of your accounts across financial institutions
Text or email alerts for a variety of account triggers like low balance or high cost purchase, entirely customizable to you
Internal transfers and PopMoney to transfer money to other Truliant accounts and people
External Funds Transfer service allows you to easily transfer money between your Truliant account and your other accounts at other financial institutions
Check ordering with Harland-Clarke
Best of all, most of these services are free to use whenever you'd like.
Financial Education Center
(1) Up to three replacement cards. Excessive card replacement fee can be found on our
Fees page
.