Truliant makes getting a used auto loan fast and easy.
Up to 100% financing

90-day deferred payment2

No mileage cap on used car loans

Convenient digital application
Whether you're in the market for a newer used car or one that is a few years older, Truliant is here to help. We offer used car loans for vehicles up to 10 model years old.
Used car rates as low as
2.99%

APR1

Our used auto loans feature:
Flexible terms up to 84 months3 to ensure that your used car matches your budget
Fast approvals to get you on the road in no time
Skip-A-Pay to let you skip one payment per year4
What should I expect when applying for a car loan?
Our quick, convenient digital loan application makes applying for auto loans or refinance existing vehicle loans available virtually anywhere.

Once you apply, a personal Digital Guidance Specialist will walk you through the rest of the process so if you ever have a question, we're here for you.

Within two business days, we'll contact you about your application's decisioning. If you're approved, we'll also discuss your loan amount, auto loan rates and payment information.

Funds are ready when you are, so you're free to buy a car that you've had your eye on or to start shopping around whenever you wish.
Which comes first: a pre-approved loan or a car?
Get Pre-Approval First
Take back your negotiating power with our exclusive Express Check.

Imagine walking into a dealership with a blank check that's pre-approved to cover the entire cost of the car including your taxes, tag, and title.5 By applying for pre-approval and choosing Express Check, you're able to write a check for the full pre-approved amount or just a portion of the funds whenever you're ready—including nights and on weekends. Best of all, you'll already know what your vehicle loan amount, terms and payment will be so there's no worry of hidden surprises at the dealership.
Get Your Vehicle First
Whether you have your eye on a certain car or you like to browse before buying, Truliant is here for you. By working directly with many local dealers, great auto loan rates are simply a request away. When you're purchasing your car, give us a call or simply request your salesman to finance with Truliant.

If you're still looking for a great used car service, CUABS, also known as Credit Union Auto Buying Service, provides a free service to help you research and locate the perfect auto for you. Save money with low-stress, no-haggle prices that are often less than retail. And, depending on where you live, they'll even deliver your car right to your door.
Do you need GAP insurance?
GAP insurance is an optional insurance that helps you to pay off your auto loan if your car is totaled or stolen, and you owe more than the depreciated value. As vehicles depreciate over time and with standard wear and tear, GAP insurance could be a great additional coverage as you're paying off your vehicle. Auto loans for new luxury cars can be expensive. Add to that the depreciation value, immediately after driving it home, and short-term GAP insurance is a smart investment.

At Truliant, we're happy to offer GAP insurance to help protect your investment.
For additional information, please view our helpful guide.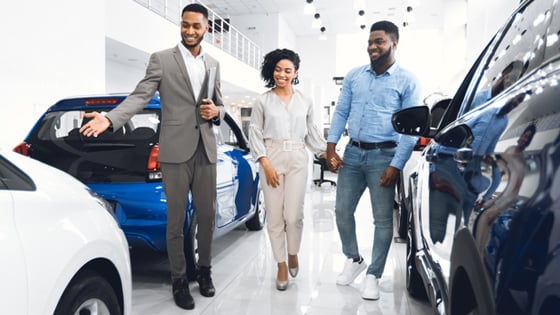 How to Buy a Car
Buying a car can be both exciting and stressful. At Truliant, we're here for you every step of the way from applying for your new loan to finding the perfect car for you, so whatever you choose, you can drive away happy. Read some of our favorite tips for purchasing a car.
How much will my vehicle payment be?
Auto Loan Tools and Resources
(1) APR = Annual Percentage Rate. Rates and terms are subject to change. Loans are subject to credit approval. Floor rate on auto loans is 2.74% APR, and includes discounts available when purchasing the vehicle through the Credit Union Auto Buying Service (CUABS), and depending on your credit score, for loans with a loan-to-value ratio under 80%. Contact us for complete details. Additional terms apply for refinancing existing Truliant auto loans.
(2) Qualified borrowers may defer payments up to 90 days after loan signing. Interest will accrue from the date of the loan until payments begin. Participating in this program results in up to a 90-day extension of the loan, maximum term 84-months. Cannot be combined with other offers.
(3) The estimated monthly payment on $20,000, 84-month term at 4.24% APR is $276.
(4) Subject to credit union approval. Skip-A-Pay works by extending your loan term by one month for each Skip-A-Pay transaction used. Limit one Skip-A-Pay extension per calendar year. Account must be in good standing to qualify. Interest will continue to accrue until loan is completely paid. A $30 service fee applies. Once the fee is transferred, your loan will reflect the new due date. Truliant must be listed as the lienholder on the car or recreational vehicle title to qualify.
(5) Express Check is not authorized for vehicles purchased from individuals. Subject to credit approval.
Provision of the calculator on this page is not an offer of credit. Its use in no way guarantees that credit will be granted. This calculator is solely for informational purposes and provides reasonably accurate estimates; the calculations are not intended to be relied upon as actual loan computations.